Exhibits at Travelers' Rest
Inside the Travelers' Rest Visitor Center you'll find permanent and traveling exhibits that tell the story of Lewis and Clark and the history of the area.
Lewis & Clark exhibits include archaeological finds from the Travelers' Rest site, replica clothing and equipment from the Expedition, dioramas of the Travelers' Rest campsite and the Expedition's approach to Glade Creek, and historical firearms.
Seasons of the Salish
A panel exhibit, shows how the Salish people moved through the landscape to gather resources throughout the year. A collection of modern and contemporary beadwork, musical instruments, and powwow regalia by diverse indigenous artists highlights the traditional crafts of Native Americans.
Natural history displays include skulls and pelts of bear, beaver, and birds. Also on display is a running list of species sighted at Travelers' Rest State Park in the current year.
Point A to Point B: Travel & Transportation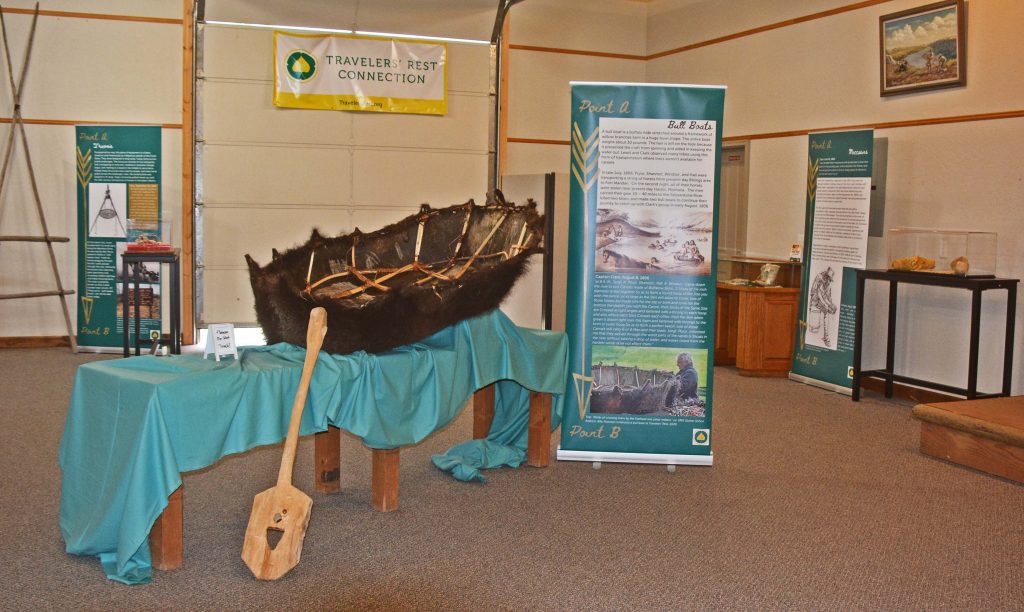 The Lewis & Clark National Historic Trail spans 4,900 miles across diverse landscapes. As the members of the Expedition traveled across the Continent, they used many means of transportation, often adapted from traditional indigenous forms suited to the geography of different regions. The Corps of Discovery sailed, paddled, walked, and rode on their way from Pittsburgh to the Pacific.
Along the way, the Expedition's journalists observed and recorded how indigenous peoples traveled and how they navigated using cultural as well as geographic landmarks.
Explore replicas, images, and journal entries to learn how the Expedition traversed wilderness, carrying valuable cargo, from Point A to Point B.